Vehicle Loss and Lease-End Protection


DON'T LOSE OUT IN CASE OF A TOTAL LOSS
In the event of Nissan vehicle theft or an accident that results in a total loss, most insurance companies only reimburse the owner for the market value of the car. This, along with the deductible, can create a significant gap between what your insurer will pay you and the balance on your loan. Guaranteed Auto Protection (GAP) eliminates this "gap."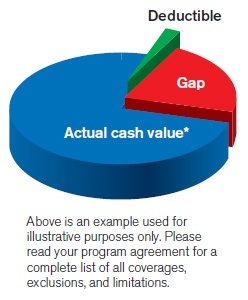 GAP example:
Loan/lease balance $23,000
Actual cash value* - $18,000
_____________________________________
Gap $5,000
Insurance deductible $500
_____________________________________
Potential expenses $5,500
Out-of-pocket expenses with GAP$0
With GAP Protection you can be confident your covered deficiencies will be waived.

ASSURANCE FOR THE UNEXPECTED
Leasing a Nissan should be a carefree and enjoyable alternative to financing a vehicle. However, simple stains, chips, dents and dings, although part of the normal wear and tear that your vehicle endures, are your financial responsibility at your lease's turn-in time.
Protect your investment at lease turn-in from exterior and interior excess wear and tear charges such as:
• Paint damage and exterior surface dents
• Interior upholstery surface rips, tears, stains, and spotting
• Carpeting rips, tears, stains, and spotting
• Side and rear view mirrors (glass, surface, and mechanical/electrical)
• Bumper(s), bumper covers, step bumpers, and surrounding bumpers
• Windshield, window, and side glass chips
• And much more …
Contact Us